Buying a new compressor is a large investment for any sized company.
A compressor's initial cost is very low when compared to its life cycle;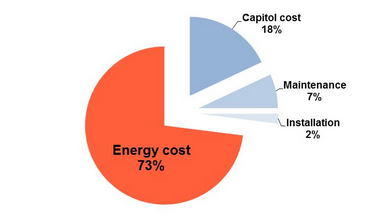 approximately 73% of the total expenditure is derived from power and energy costs. The remaining 27% is divided between capital costs, installation and maintenance (see diagram).
If you are thinking of investing in a new compressor, smart savings can be made through minimising power consumption. You will experience huge savings by replacing your conventional load/unload compressor with a frequency driven variable speed compressor (IVR). A frequency driven compressor adapts itself to the production's air requirements, saving on average 25-35% in electrical costs!
What is Variable Speed Technology and How Does It Work?
Variable speed systems work by connecting a motor control drive to the compressor and then connecting the line input power from the utility to the drive. The drive uses frequency modulation to adjust the power output of the compressor motor enabling it to speed up or slow down according to the heating or cooling load. This ability to modulate compressor capacity enables many of the advantages of variable speed technology including improved efficiency and comfort.
Advantages of IVR Variable Speed Compressors
1 – A reduced carbon footprint and lower overall costs
When purchasing a compressor, it is important to realise that your biggest cost over the lifecycle of a compressor is the operational cost. This is on average 3.5 times higher than the purchasing price. Our range of frequency-driven IVR compressors allows for an average reduction of 30% on electricity cost compared to conventional load/unload compressors. This way you can also benefit from reduced carbon dioxide emissions.
2 – An excellent return on investment

When investing in a new IVR compressor, the initial purchasing price amounts to only about a fifth of the full lifecycle cost. This means that your main focus when it comes to cost reduction should be on where the greatest savings can be achieved, namely the operational cost. With operational costs on average 30% lower, these variable speed compressors have an average payback time of no more than two years.
3 – Lower maintenance costs

The advantages of IVR variable speed compressors are great and plentiful. Because the compressor adjusts to the actual air demand, there is a reduction in the overall working pressure, which is also less straining on the compressor.
As a result, the overall maintenance cost is lower and the lifespan of the compressor is longer.
So How Much Can You Save?
An experienced Nessco Pressure Systems representative can conduct an evaluation of your current set-up, and based on his calculations, will provide recommendations on how to optimise your energy consumption and the efficiency of your compressors. As a result, you can reduce your costs, as well as your impact on the environment.
Call us on 1300 290 638 for more information!
View our Ceccato IVR Range Here.